The Entertainer's Business Toolkit Features Over 50 Forms, Letters, E-mails, Scripts, Invoices, Contracts, Templates & Other Tools & Resources For Entertainers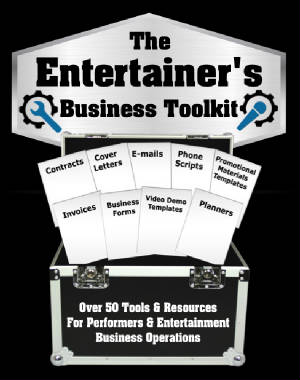 As every entertainer knows, show business is two words, each pertaining to the two parts of operating as a performer - the "Show" and the "Business." Both require special knowledge, skills, tools, and resources.
There are many aspects to owning and operating an entertainment business, much more than just the performance. These include having defined goals, a business plan, market research, a business operational system, marketing, advertising, promotion, the booking process, customer service, staff and/or contractors, training, necessary equipment and accessories, insurance and so many other elements that all combine to create our success as entertainers.

In each of these elements there are variety of forms, contracts, lead sheets, marketing tools, letters, e-mails, phone scripts, templates and so many other tools that can make your entertainment operations run more smoothly, more professionally and more efficiently.
The Entertainer's Business Toolkit Is Designed To Provide The Tools & Resources That May Be Utilized In The Operation Of Any Performer Or Entertainment Business Operation

These tools of the trade are so important to your business operation as they provide you with organization and protection. They also present a professional working image and perspective to those who choose to do business with you.


Beginner Or Pro, Part-Time Or Full-Time
If You Perform For Money You Need These Materials

Truth be told, if you perform or sell entertainment services on any level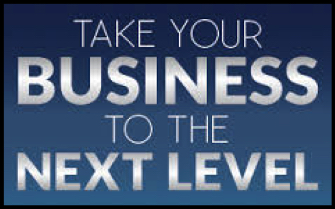 at all, you need these resources.

The Entertainer's Business Toolkit
e-book features over 50 of the tools than can be a great addition to any performer and their entertainment business and operations. Regardless if you are only an occasional performer doing only a few shows per year or a touring professional, the resources are sure to be a welcome addition to any entertainment operation.
Full Descriptions And Suggested Use & Applications - Learn Not Just The "Whats" But Also The "Whys" And "Hows"

In these pages you will find not only the over 50 tools and resources, but also an overview description of each individual tool detailing its purpose, how it is to be used, and even its reason or purpose in an entertainment operation.

The Entertainer's Business Toolkit
is designed to provide information and tools that may be utilized in the operation of any performer or entertainment business operation.
Here are just a sample of the tools, templates, scripts, forms, letters, e-mails, contracts, invoices, follow-up materials, releases, survey & questionnaires, promotional materials, planners, checklists, goal sheets, video storyboards, and more that is included in
The Entertainer's Business Toolkit
…
Lead Sheet
Booking Info Sheet
Inquiry Cover Letter
Information Request Cover Letter
Follow Up Letters & E-mails
Invoice
Receipts
Credit Card Authorization Form
Receipt Of Charges
Thank You For Booking Cover Letter
Booking Agreement
Rider
Performance Instructions
Payment Reminders
Thank You Letter
Review Questionnaire
Post-Event Survey
E-mail Sequence Series
Merchandise Order Form
Mileage Log
Equipment Inventory Sheet
Fax Cover Sheet
Followup Of Unbooked Leads
Donation Of Services Response (Decline & Offer)
Agency Submission Letter
Photo Release
Contractor Talent Agreement
Non-Compete Agreement
One Sheet Template
Sample Video Storyboard (2 Versions)
Biography Template
Incoming Phone Script
Cold Calling Phone Script
Sales Phone Script
Performance Checklist
Short-Term Goal Planner
Long-Term Goal Planner
Weekly Planner
Marketing Planner
Bid Submission Template
Proposal
Travel Itinerary Form
Collection Notices
These are the most crucial and important forms, paperwork, and correspondence for a performer or entertainment business anywhere, at any level. Clients and customers will have expectations when inquiring and booking your services and these resources will allow you to provide the materials and content needed to offer you confidence and peace of mind as a respected entertainment business.
Over 50 Great Tools & Resources Together In One Place A Fantastic Value To Any Performer & Entertainment Business


If you've ever sought out the services of a lawyer, accountant, tax professional, consultant, or other professional to create or design such tools and resources for your operation, you are well aware that often to create a single contract, template, or any other tool can easily cost you hundreds to thousands of dollars - each!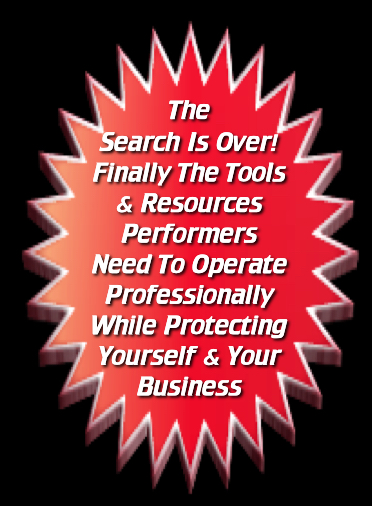 Not having these proper and industry-specific tools can result in a variety of consequences that can range from lawsuits to failure to be paid for your services to reputation damage in your market and community. We could list literally dozens of additional reasons why not having the right and proper tools could result in a variety of problems, but we won't. That is something you as an entertainer should already be well aware. As you can well imagine, it only takes one unexpected or unfortunate situation and the damage can be done.
In our four decades in the entertainment business, we have paid for many of these tools, documents, templates, and resources to be professionally designed and created for our own use as well as the use of those we coach and consult.
We are proud to now offer some of these very same tools and resources to the entertainment community as the latest release in the
Entertainer's Success Series.
Use As-Is Or As A Template To Create Your Own Specific Tools

Many of you can begin applying these to your business operations immediately. You can use them as-is or you can use them as a template or guide in assisting you to create your own tools specific to your exact needs and business. Most are likely to use a combination of both.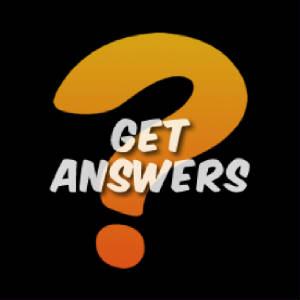 So many times we receive e-mails or private messages asking us "what do I put in a contract?" or "should I ask for a deposit, if so how much?" or "what's in a rider?" Another area of great concern is designing and creating promotional materials. I always hear "what should be in a promotional package?," or "what is a one-sheet?" and of course "do you have a sample I could use?"
Now all of these questions and interests will be addressed with the materials provided in this e-book. No longer does it have to be "trial and error" or "a guessing game."
The Entertainer's Business Toolkit
provides the most important and necessary tools for any entertainer and entertainment business.
We Have Removed All Of The Guess Work For You

In this day of online forms, e-mails, auto-responders, automation processes, hands-off marketing, websites, social media, capture forms, squeeze pages, online videos, youtube, and a variety of other digital, online and web-based approaches to business operations, the tools provided in
The Entertainer's Business Toolkit
can also be used and easily adapted to this latest technology and programs.
Simply put, however, you choose to use and apply them, these tools will benefit you and be a great addition to any performer's resource library and will serve you for years to come.
This is a 149-page professional resource e-book and the price is only $49.95.
Order Now!
About The Entertainer's Success Series?


The Entertainment Success Series is a line of professional entertainment industry resources designed for performers of all levels and locations worldwide. Through The Entertainment Business Center and our coaching programs and trainings we specialize in providing the tools, resources, training, and education to performers and entertainment business owners/operators of all levels from the only occasional and part-time performers to semi-pro and full-time working professionals.

While as entertainers our product should be the best, quality show we can provide, we also believe and understand that success is truly determined by the business operations behind the performance.