An Industry Guide To Understanding & Working With Agents & Agencies For Entertainers, MCs, Speakers & More
Have You Ever Wondered How To Get An Agent?

Have You Ever Considered Agency Representation?

What Do Agencies Really Want?

Do You Know How To Get An Agent Or Agency?

Are You Tired Of Seeing Others Listed With Agencies And Getting Great Bookings?

Have you ever really wanted to learn and understand the mindset, mentalities, and realities of how agents and agencies work, think, operate, and execute? What they want, what they need, what they expect, and why?
In this professional industry resource, you will learn the answers to these questions and more. You will go behind the scenes of agency operations to reveal the truths and real-world insight into working with and better understanding agents & agencies.
You'll learn...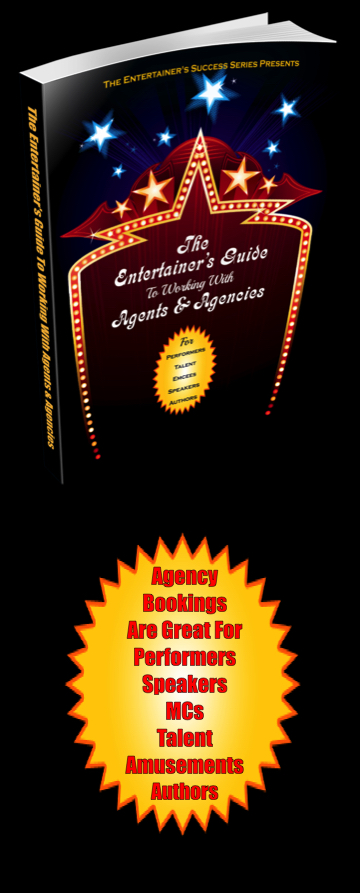 What Is An Agent?
What Is An Agency?
Why Are So Many Performers Interested In Agents & Agencies?
What Are Really The Only Two Main Types Of Bookings?
Agents & Agencies Yesterday & Today
Event, Party, Corporate & Wedding Planners
Who Are Not Agents?
Misconceptions About Agents & Agencies
An Agent Vs. A Manager - Understanding The Differences
Producers, Promoters & Publicists
Full-Service, Specialty Agencies & Speaker Bureaus
Theatrical Agencies, Literary Agencies & Modeling Agencies
Celebrity Agencies
Exclusive & Non-Exclusive Agents & Agencies
Independent Agents Vs. Agencies
Benefits Of Working With An Agency
The Ability To Reach New Clients
The Ability To Reach New Markets Previously Unavailable To You
Being Represented At Association & Industry Trade Events
Landing Opening Act Or Shared Bills With Larger Or Celebrity Acts
Understanding Why Clients Use Agents & Agencies
Understanding Why Venues Use Agents & Agencies

Understanding Agency Operations
Are You Ready For Agency Representation?
The Artist-Agency Relationship
"The Shift"
Working As An Independent Contractor
Agency Pricing
Agency Percentages & Commissions
The Complete Process Of An Agency Booking
Contracts & Riders
Agency Rules, Policies, Etiquette & Guidelines
Becoming Agency-Ready
Agency Policy & Submission Guidelines
Congratulations, You Have Landed Agency Representation!
Business Cards & Promotional Materials
Receiving Payment For Your Bookings

Maintaining Your Relationship With Your Agents & Agencies
Being Offered Or Transitioning To An Exclusive Representation Agreement
Know & Respect Professional Boundaries
Ending An Agency Relationship

Resources & Tools For Agency Submission & Representation
Agency-Friendly One-Sheet
Agency-Friendly Video Storyboard
Agency Submission Cover Letter
Sample Release
And Much, Much More!
Finally, Learn The Truths, The Many Misperceptions, False Expectations And Often Incorrect Information, As Fact Is Separated From Fiction
You will learn real-world industry insight written by a long-time industry insider with experience as an agent, agency owner, talent broker, producer, and promoter. This is the information you need to know if you want to consider working with agents and agencies
to increase your bookings, work new markets, and enjoy elevated income. Agency representation can propel your business to fantastic levels, often unobtainable on your own.
This is A Must-Have Resource For Performers, Entertainers, Entertainment Business Owners, MCs, And Speakers!